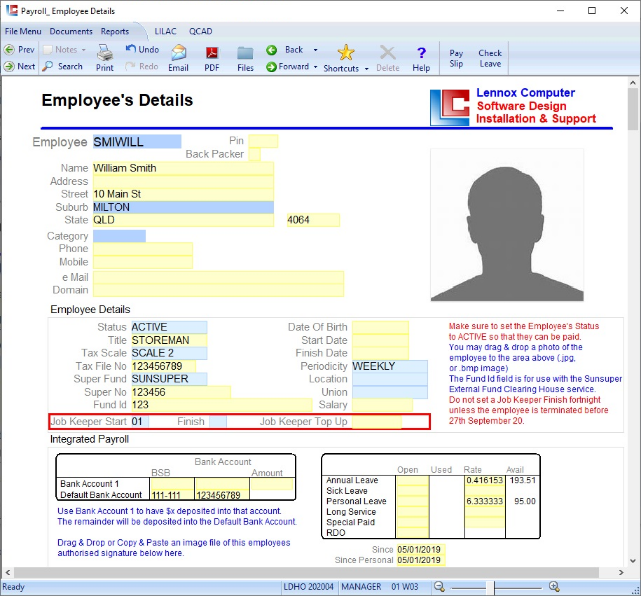 Lennox Computer LILAC Business Software
8/14 Ashtan Place, BANYO 4014
Brisbane, Australia
http://www.lennox.com.au

ERP Business Accounting Software
Distribution, Manufacturing, Job Costing
Phone: 07 3267 7880
Est. 1980

LILAC Payroll Job Keeper Support
As of 11th April 2020 LILAC Payroll module provides support for the Australian Government stimulus package known as Job Keeper or JOBKEEPER, in cooperation with the Tax Office based on advice from the ATO dated 9th April.
LILAC users wishing to deploy JOBKEEPER support will be required to install a new full LILAC server software release with a build number of 3124 or later dated 11th April 2020 or later.
Those businesses qualifying for JOBKEEPER are encouraged by the ATO to report their eligible employees via the LILAC Single Touch Payroll interface.

The ATO has defined a sequence of 13 fortnightly periods beginning on the 30th March and ending on the 27th September. Each fortnightly period is identified by a code in the range 01 to 13.

For each employee the Australian Government via the ATO will pay a sum of $1,500 per fortnight (paid monthly as $3,000 ($4,500 during August which has 3 fortnights)).

Actual payments must be claimed on a separate monthly qualifying process by the employer directly to the ATO.

The role of the LILAC STP processing is to transmit to the ATO details of which employees are eligible.
You must identify an employee eligible for JOBKEEPER payments with and entry in this field - typically "01" if they are eligible from the start.

Do not use the Finish field unless an employee is terminated before the end of the JOBKEEPER range.

Only for those employees who were being paid less than $1,500 per fortnight prior to JOBKEEPER.

Enter a dollar value to make up their pay to $1,500 e.g. if they were being paid $1,200 enter 300.00

You must pay them the full $1,500 per fortnight.
We recommend that these settings are in place prior to the 1st STP upload run for the week ending 19th April.

Use the Payroll Summary report to check the settings for all employees.

See below.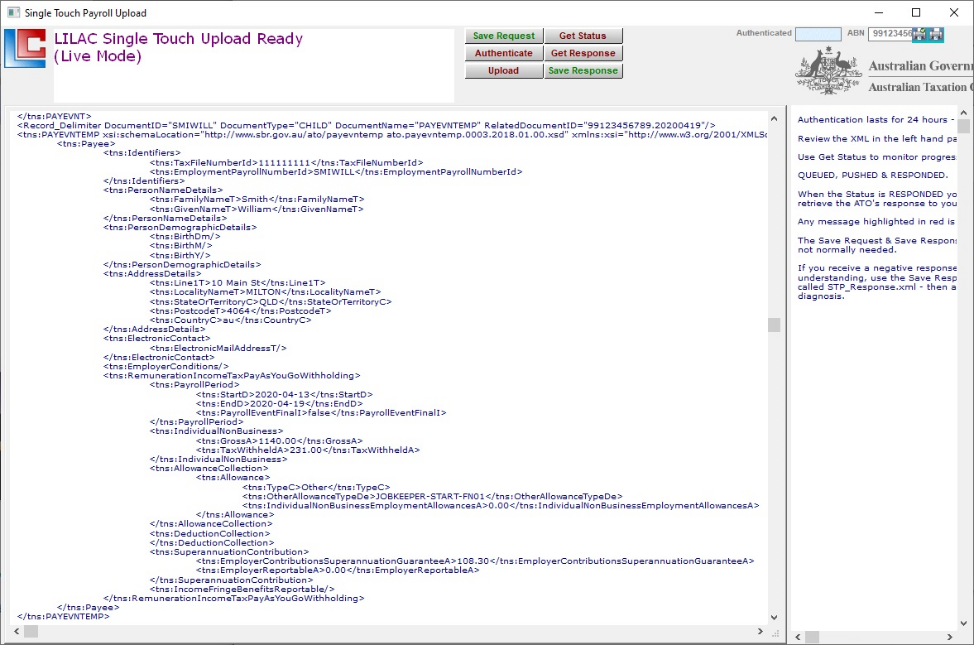 When processing the STP upload to the ATO check carefully that the "Allowance" setting shown is in place for each employee's section of XML data.

Job Keeper Top Up
LILAC JOBKEEPER support recognises the Time Type JKEEPER for the posting of Top Up amounts. The Time Type code JKEEPER may be added at Documents > Payroll > Time Types. This may be established with similar settings to the NORMAL Time Type.

The STP upload data will present a YTD accumulation of JKEEPER posting under the JOBKEEPER-TOPUP XML tag.
Lennox Computer - 07 3267 7880
info@lennox.com.au
Brisbane, QLD, Australia.