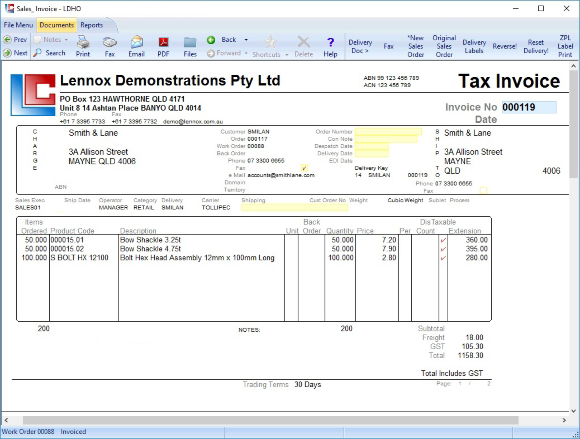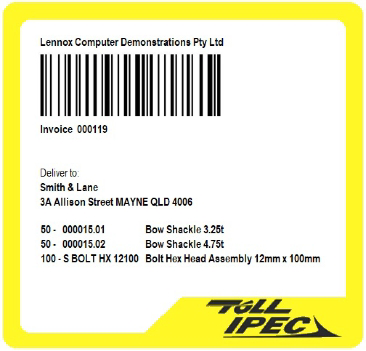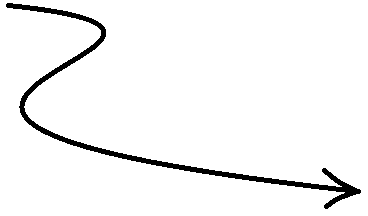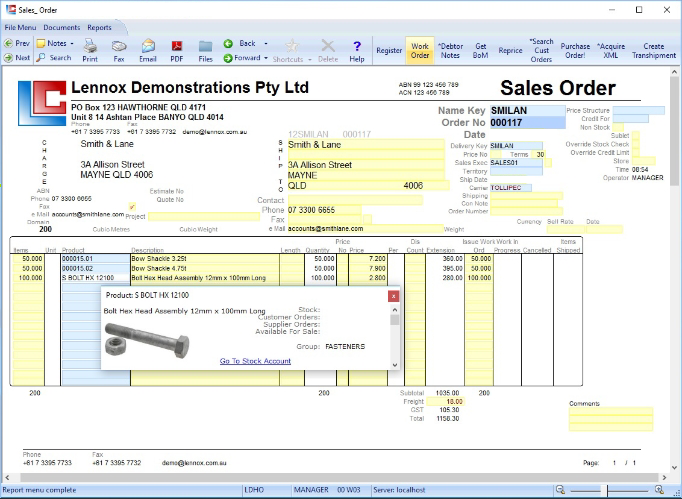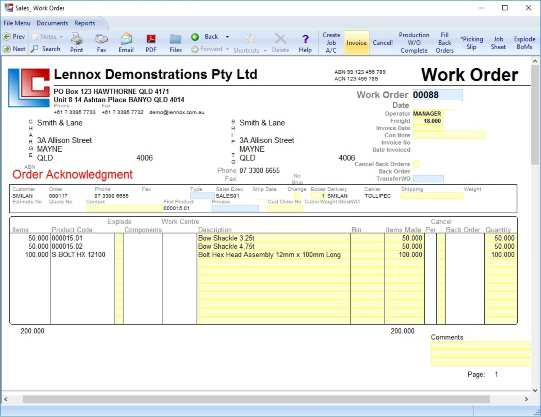 Lennox Computer LILAC Business Software
8/14 Ashtan Place, BANYO 4014
Brisbane, Australia
http://www.lennox.com.au

ERP Business Accounting Software
Distribution, Manufacturing, Timber
eMail: call for enquiry eMail
Phone: 07 3267 7880
Est. 1980

LILAC Accounting Software - Distribution & Wholesale
LILAC is comprehensive account based business management software.

LILAC enables distributors and wholesalers to channel products to retail markets, and directly to end users.

The fully integrated structure of LILAC allows clear visibility into order processing, accounts, inventory levels, warehousing locations, sales, freight, and financials.

Seamless website based e-commerce functions are built in to LILAC Accounting Software.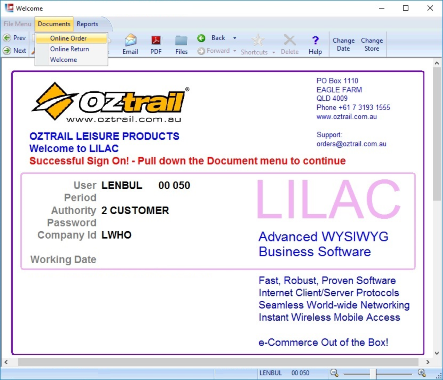 • Procurement
• Sales Order Processing
• Inventory and Stock Movement
• Warehouse Integration
LILAC Online is used by the retailers of OZtrail products across Australia and New Zealand.
LILAC Online allows outlets to purchase directly from a distributor or wholesaler.
• Freight
• Electronic Data Interchange (EDI)
• In Depth Financial Reporting
Procurement and Purchase Orders
• Manually or automatically generate purchase orders based on inventory levels, sales history, and current sales order commitments.
• Electronic Data Interchange (EDI) with suppliers.
• Purchase in multiple foreign currencies.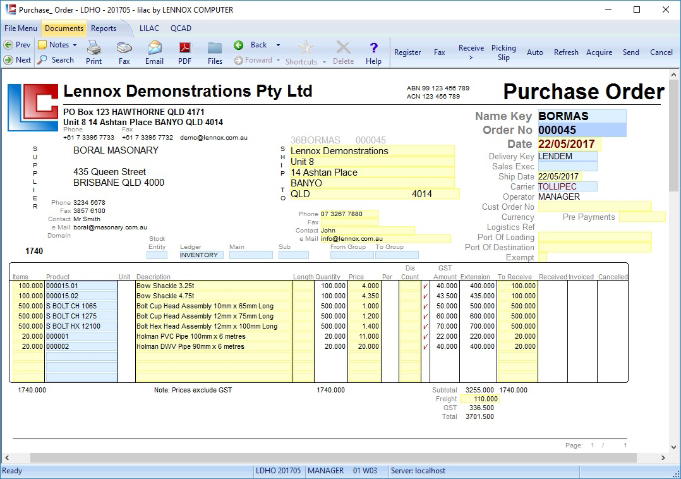 • All LILAC documents, including the Purchase Order, have a graphical user interface which mimics a form filling in approach.

This functionality is simple, easy to use, and allows the document to be printed or emailed, exactly as it appears on screen.
Sales Order Processing
• Select a sales processing method which best suits your enterprise. LILAC is comprehensive and capable of handling very high volumes.


• Sales orders can be keyed manually by sales staff via in-comming phone calls, or remotely by travelling sales teams.
• Sales orders can be generated from EDI or Web Orders. Seamless e-commerce functions are built into LILAC Accounting Software.
• Sales Order Processing includes:
• Multiple Selling Prices
• Quotations
• Work Orders and Picking Slips
• Freight Calclualtion
• Component and Bill of Materials handling
• Back Orders
• Barcode Scanning
• Invoicing
Warehouse Manager
• WiFi laser scanners communicate in real time with LILAC.
• Products, cartons, and pallets are received into warehouse locations, moved from location to location, picked and despatched outbound - simply by scanning a racking or location barcode, followed by the barcode of the particular product associated with an invoice.

LILAC implements geographical control, layout, and stock tracking in large warehouse situations.

LILAC allows the a user to create and print barcode labels for individual products, cartons containing multiple products, and pallets carrying mixed loads of cartons and products.

LILAC prints barcodes and labels suitable for location labelling, racking, etc.

Barcodes are formatted to any requirement, including the EAN-128 standard for consistency and compatibility with external logistic systems.

These scanning devices are linked to your accounting database.
Chain of Custody
LILAC links movement and storage of raw materials, all work-in-progess functions related to the manufacturing of goods, and product movement from inventory through to freight with only correct scanning processes permitted. An incompatible scan prevents operators from proceeding with in-correct work order, invoice, or shipment processes. Scan processes can be displayed live, on large screens, located anywhere within an enterprise.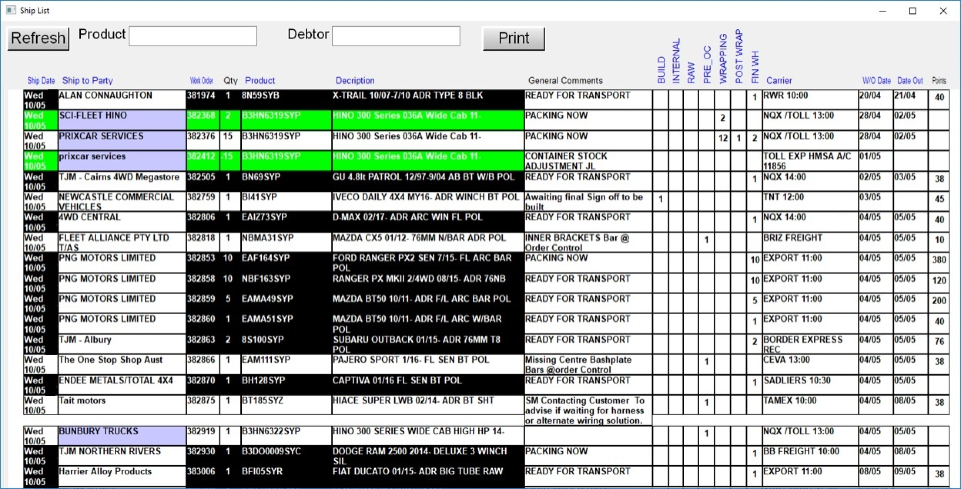 Stock Account
Each Product has a fully stored transaction history within the database. Individual in/out, debit/credit, transactions are maintained for each product. Real time tracking of orders, purchases, sales, and transfers are always available.
Up to 16 character Product Code is the primary key for each Stock Account.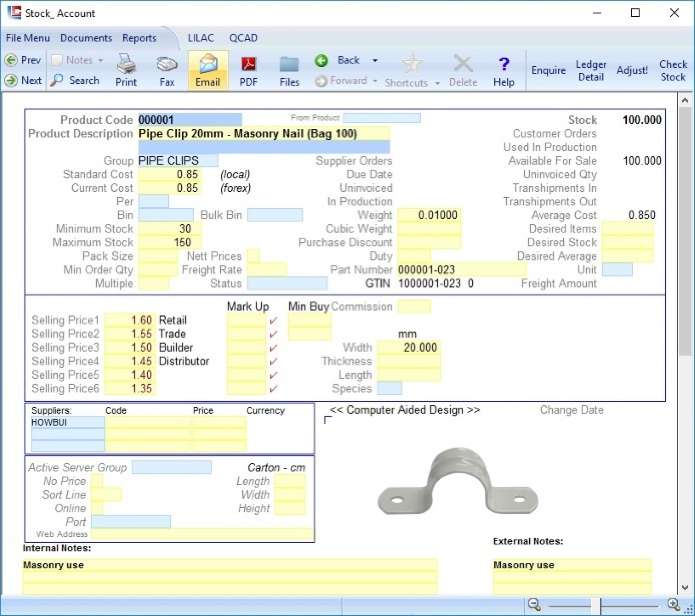 40 character Product Description
for ordering & invoicing.
6 Selling prices for various applications.
Real Time Visibility:
•
Current Costs
•
Supplier Orders
•
Un-invoiced Orders
•
Customer Orders
•
Items In Production
•
Flexibility exists to display
any information required.
CAD Image & bitmapped graphics captured for presentation & eCommerce applications.
Extended description text.
LILAC Accounting & Business Management Software - Enterprise Automation
Lennox Computer - 07 3267 7880
Brisbane, QLD, Australia.