Click this link to go to Lennox Computer's example eCommerce web-site using our Active Server technology.
Lennox Computer LILAC Business Software
8/14 Ashtan Place, BANYO 4014
Brisbane, Australia
http://www.lennox.com.au

ERP Business Accounting Software
Distribution, Manufacturing, Timber
eMail: call for enquiry eMail
Phone: 07 3267 7880
Est. 1980

In-Built eCommerce - Database Integrated eCommerce
LILAC provides an interface between the LILAC Stock Account and the World Wide Web.
Customers can browse product catalogues complete with images, place orders, and make credit payments on-line through secure payments services.
Zero Effort Website Maintenance
The simple act of adding a new product, or changing a price, or description in the LILAC database is instantly available on your eCommerce website, because LILAC creates the HTML presentation directly from the LILAC database, dynamically, when the customers web browser makes a connection.

Even though LILAC is creating your eCommerce website for you, you control the look and feel of the website by editing the layout, positioning, fonts, colours, and graphics used.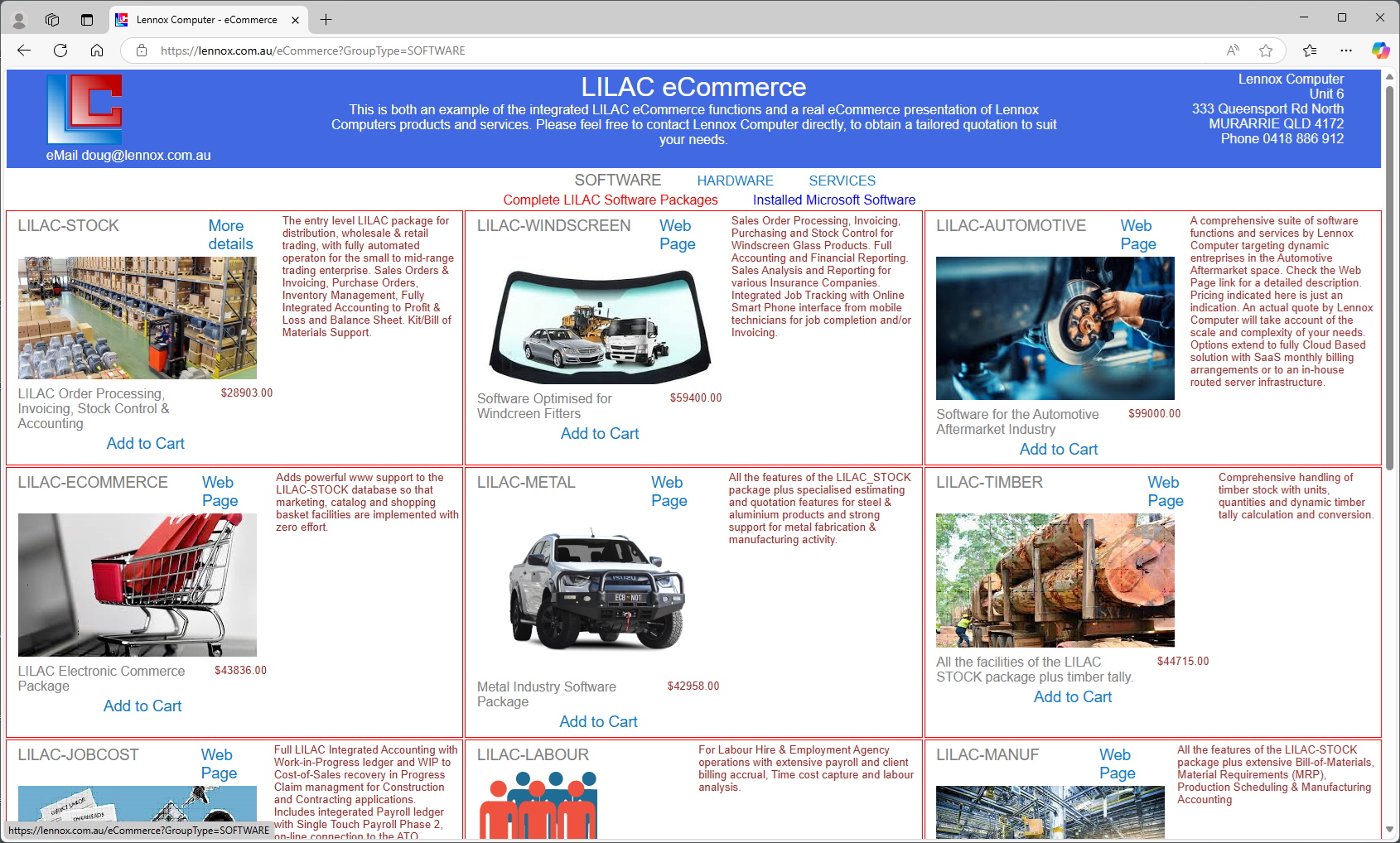 Selected Stock Account Information Displayed in an eCommerce Setting

LILAC Active Server eCommerce:
• A dynamic interface to the LILAC database for product pricing, description, and stock.

• Synthetic HTML generation from LILAC database ensures that your Internet catalogue is fully up-to-date at all times with zero additional effort.

• End-users see familiar HTML based forms, product lists with single click product selection, and a shopping basket accumulation.

• Sales Orders are created in the LILAC database from the eCommerce activity, ready for picking or scanning, invoicing and shipment.

• eMail based order notification interface – signals your sales department when an internet client submits an order.

• Credit Card and PayPal Secure Payments system support for confident processing.

• Optional provision of a log on process using customer key and password to permit established debtor account customers to purchase on approved terms.

• Directly interface to Lennox Computers RF barcode scan based warehousing, distribution and despatch systems, for fast efficient processing of orders.

• A flexible reporting interface allowing client enquiry regarding order status, account balance, and sales history.


Lennox Computer - 07 3267 7880
Brisbane, QLD, Australia.